| | |
| --- | --- |
| | Several supercells developed through SE QLD, many with spectacular structure!  One of the better days, but storms developed close to the coast. |
We woke up and looked outside, it was relatively clear to the south, but there was already small Cu building to the north, a sure sign of where the later development would be.  We headed towards Warwick where we got our tyre fixed from the day before, and then grabbed some lunch at McDonalds.  Some CJs were developing, but we thought we had time to have lunch before anything interesting started happening – perhaps not!  We were both getting stuck into some burgers (I don't think we'd eaten for 24 hours!) when there was a flash outside.  Two seconds later there was a BANG!  James looked at me – I'd noticed it, but didn't think much of it until he mentioned it (it didn't register that a CG just struck within 600m of us!)  It quickly did, and we ended up heading outside…just then another close CG struck, temporarily taking the power out of the restaurant and followed by another loud BANG!  We jumped into the car and headed just outside of town, yet another CG struck within a kilometer or so and gave a loud bang as we were driving!  This was the first storm of the day, it had developed quickly and was moving E. 
We traveled E along its northern edge, but it didn't produce as much lightning anymore.  Another storm developed to the WNW of this one and quickly began to look a lot stronger.  Very soon this began producing nice CGs – we drifted north then a little west to get closer to it.  It ended up giving very heavy rain and some small hail – not bad for early in the day!!!  We ended up heading east with the storms, they were moving relatively quickly, but not really moving in an ideal position (ie east), when we really needed them to move NE.  Still, we headed to Aratula and then stopped just near Boonah to have a look at some awesome updrafts just to our NE, and then eventually to Boonah. 
It was an interesting sight from Boonah.  One of the storms had intensified rapidly in the last 20 minutes or so and looked very nice to our SSE with plenty of new development.  After a brief discussion, we decided to shoot east to Beaudesert.  It's a mostly treed road between Boonah and Beaudesert (and windy too), which means you don't gain much distance.  The storm was still generally moving E or slightly north of east – if only it would move NE!  The updrafts coming up to Beaudesert were fantastic!  We were staring above us as updrafts were shooting up 40,000ft or so and still going underneath a solid mammatus anvil overhead!
As the trees cleared to the town of Beaudesert we were greeted with a lovely green storm about 5-10km in front of us, it looked great!  We could even make out rotation in the main updraft region of the storm!  Only it was still going E and no doubt going to cross the coast in the next 20-30 minutes. 
With this, James and I had to make the decision to say goodbye to the storm – very frustrating that it continued to move E, but with the road options to cross the ranges into the Gold Coast, it'd take us a good 40 minutes to get to the coast from where we were, and there was going to be no hope in getting in front of it. 
Some more convection was developing to our WNW, and some storms were looking to develop just SW of Brisbane.  We ended up driving north and sat at the Christian Outreach Centre lookout for a little while.  Some storms had also developed just to our E, but they were already nearly out to sea! 
Things were certainly developing very close to the coast – but this was because of it drying out to the west.  Stuff was developing to our west, and we hoped it would do something – we let it go over us but all it did was giving very heavy rain – no hail!  We headed north towards Brisbane and then to the Jehova lookout.  That cell had actually strengthened a little and was close to the coast – some other stuff to our ENE looked nice too!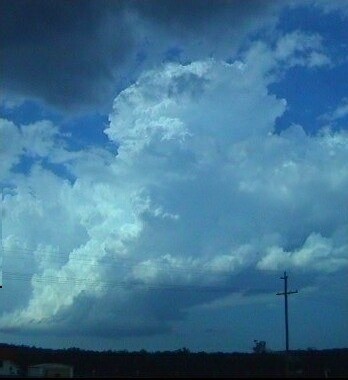 Everything was looking nice as it got closer to the coast, but that was the frustrating thing about it.  Things were developing so quickly, it was difficult to keep track of what was going to develop into what, and what would actually make it to the coast and beef up!  With eastward moving storms, you had about 10km before they were moving out to sea, very difficult to chase!  Best sometimes is almost to sit back, watch and enjoy the structure!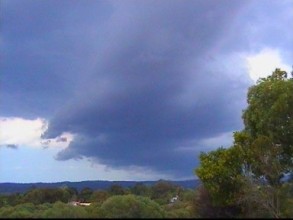 However some MASSIVE storms to the north were tempting us, and they were backbuilding strongly too!  Hence they appeared to be moving more NE or even NNE, we again discussed it and decided that since we had to be further north tomorrow anyway, that we should head further north. 
The storms were producing rock solid updrafts with strong overshooting tops, sometimes multiple ones at a time all joining into one, it was fantastic!!!  As we flew up the Bruce Hwy we got closer to the storms, they had some heavy hail shafts at the back and you could even see the twist in the massive updrafts as they went up!  Some of the decaying updrafts from other storms looked like mini 'corkscrews' – what a sight!  Unfortunately even with the NE-ward moving storms they to were moving out to sea, but we were closer this time!
As we kept heading north, more storms developed along the dryline boundary – this time a storm developed near Maryborough.  It had some fantastic mammatus! 
Bulging out like anything, the precipitation curtain was totally white – it was most probably just dumping out hail!  Of course, this was to be the last storm of the day.  And naturally, as we got closer it decayed!  But it gave a nice sunset.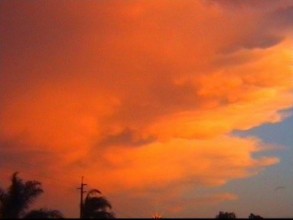 However just when we thought it was all over, one little updraft went up just over Maryborough itself from the storm after it had weakened (and we thought it had decayed).  The updraft was already beginning to rotate!  The updraft ended up climbing high enough to glaciate, but only very low (at around 30,000ft, a far contrast to the 50-60,000ft storms earlier on) – it deceloped a mesocyclone and it was rotating nicely.  In fact, I got my camera on a tripod to take a photo.  It was quite dark, so I had the shutter open for around 2-3 seconds to try and capture the light.  In some of the photos (particularly 3 second exposures), the mesocyclone was actually blurred because of the movement and rotation! 
It wasn't over yet too!  A large funnel descended from underneath the meso!  Several funnels developed under the meso, but none of them made it to the ground – but the region persisted for around five minutes.  It gave off occasional lightning so we headed to the beach to watch it.  However the lightning really was too infrequent which was unfortunate, although quite relaxing paddling on the beach watching the odd flash.  Lightning was more frequent to the south but very distant and still not that great. 
The day was frustrating for us because storms developed so close to the coast, and we had to play a lot of catch up!  On the upside, neither of us had seen much structure over the past couple of months, and this more than made up for it so it was fantastic seeing awesome structure!  We had a great steak in Maryborough which topped off a great day!