| | |
| --- | --- |
| | This day involved travelling out west to Roma, we had some Pyro-Cu, old storm damage and some bushfire anvils!  Just a novelty thing really. |
We awoke to clear skies in Brisbane - but that was to be expected.  Some small Cu did develop during the day, but nothing significant.  Some last minute shopping down the road, and a sausage roll had us embarking on our journey - but not before placing the 'TDU CB aerial' on Alex (my car) before we left my house, commemerating the start of TDU.
The Cu progressively got smaller as we headed west, a sign moisture was decreasing.  That was ok, the winds to our north were turning NE, and we were expecting that they'd pour some moisture back into the inland regions.  We still had Roma in mind, but since we had some spare time, we decided to take a slight detour and take some back roads that we'd never been on before to see how they were for chasing in the future.  Certainly the road west of Condamine is a shocker unless you happen to be a tree lover.  We also visited a few towns we hadn't been to before, one town was somewhat of a novelty for us - that was 'Tara,' - given that we both have a friend in the US called Tara, we had to make a quick stop!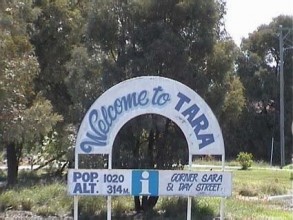 This is for you Tara!  Your very own town!
We continued on some quality Queensland roads - lets just say, you would never in danger of falling asleep on some of them - they're rather bumpy!  We came into view of some rather large bushfires though - they were rather impressive!  In fact, they had us debating for a while as to exactly what they were!  Sometimes they looked like Cirrus from an anvil (especially from a distance), and only gaining their brown dusty colour closer to the main fire.  But the fires did manage to push up some Pyro-Cu - which looked quite solid, but it was difficult to determine exactly where the base was due to the smoke haze.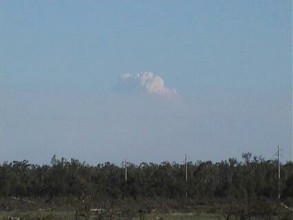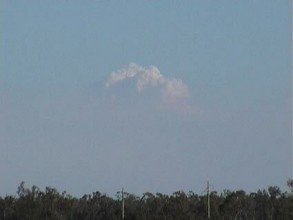 Pycrocumulus above, zoomed in on the right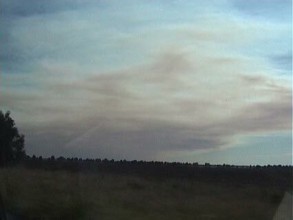 Massive bushfire anvil from a large fire somewhere in the vicinity of Westmar
About 40km south of Roma we encountered some fairly significant tree damage - it looked recent (1-2 weeks), and had been pushed off the road.  Some trees were uprooted, others snapped off - and there were branches down everywhere!  Certainly quite impressive and nasty.
We rolled into Roma a bit after 5pm (we took it slow and casual), and found accomodation.  The Big 4 caravan park is quite good in Roma, and I had a Big 4 discount card, so it worked out well for us.  We unpacked and decided to grab pizza for dinner.  While waiting for pizza, we walked around town and discussed property propositions outside the real estate windows (anyone want to buy 1,000 acres at $250/acre?)  Houses were rather expensive though, you could pay up to $200,000 for a 4-5 bedroom home!  Cheaper to buy land and build really...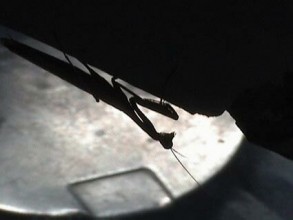 A sihlouetted preying mantis just outside our cabin - keeping up with Robert Goler here! :)
We watched some TV and caught up on each other's video footage before calling it a night, the wind had picked up outside and the DP was rising just before we went to bed - a good sign!