| | |
| --- | --- |
| | A small but nice storm became supercellular briefly in the Northern Rivers of NSW. |
GFS really didn't think much of Saturday until the latest (18Z) run came out.  Prior to that, it was really under-cooking the lower atmosphere, with DPS in the high teens and temperatures of around the low 30s, there was certainly some juice there!  Overall, it didn't look fantastic (not something we'd normally do a 700km round trip for), but other than a handful of good days, it'd been a quiet start to the storm season and we were keen for some storm action!  Of course, this was going to be the start of what became a very memorable week.
Dave and I decided to head down to Ballina (via McDonalds for McHappy day!) and eventually down towards Grafton.  Some cells developed, but seemed to be struggling.  The high cloud coming in from the west didn't help and there was still a little dry air over the western parts.
We sat north of Grafton and watched a cell gust out, but more development was occurring to the northwest so we headed up towards Woodburn.  He we timelapsed a nice supercell (albeit from a distance) that eventually gusted out.  Michael Bath and co got some great close up footage on the road to Whiporie though with a lovely wall cloud!
Afterwards we headed up to Coraki - here it took on an interesting shape.  Reminded me of a classic supercell near Brooms Head back in 2003, just not quite as organised.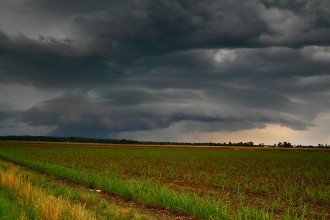 Unfortunately it didn't maintain its strength and soon gusted out producing a small but nice gust front over Coraki before we pushed up towards Kyogle to stay ahead of the line.  However the line became quite messy – with just some nice CGs and briefly heavy rain and gusty winds towards the end.