It was a bit of a funny day with moisture drying out on the Downs.  Still, it got really hot (mid 30s) in the Downs and that helped produce a line of showers and storms.  Stuff kept developing in the Boonah area but each time it tried to get organised it died…it really needed the trough.  I hovered around Boonah waiting for the main trough.
Eventually one storm got organised in the trough just west of Boonah.  It produced a shortlived meso and wall cloud before eventually turning into a larger line of storms that eventually went over Brisbane.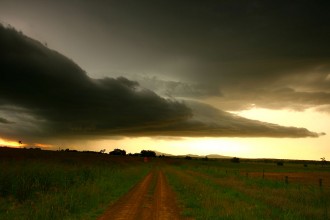 The lightning was very impressive – no shortage of CGs and I was able to capture a few sunset CGs on video which was nice.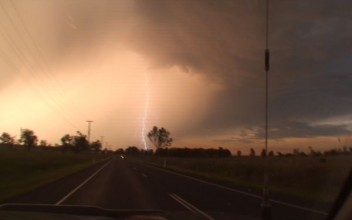 One CG actually hit the powerlines about 200-300m away, but the lines were attached to a power transformer right beside me.  The power transformer exploded with a bright blue-green flash and then showered sparks right across my car!  Certainly gave me a big fright driving along.
I had some briefly heavy rain and squall winds before the line rapidly moved eastwards.
The next day the southeast change was coming through just a tad too early – I had to do an interview with channel 10 and by 1:30pm the SE change had reached Mt Coottha.  Dave didn't finish work until 2pm, so we met at our house at 2:30pm and then quickly headed west and then eventually northwest to Esk with a line of storms just north of Toowoomba moving towards the region.  It was almost the world's quickest chase…the storm looked very nasty and menacing coming across Esk.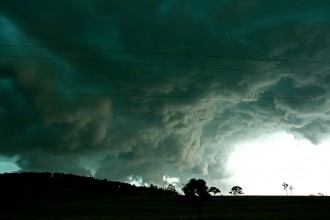 It was also one of the most sudden transitions between light rain and severe winds/torrential rain.  All we saw was this wall of water coming towards as we drove along the highway.  Visibility went to nil (we couldn't even see the bonnet) as 100-110km/h+ winds and torrential rain poured across the car. 
We then continued northwards and tried to get in front of the line but no such luck...however with the southeast change on the coast, as it approached there was little structure shown thanks to the low cloud.