| | |
| --- | --- |
| | A great long lived storm moved NW through the Downs - with some spectacular contrast and photos - one of my best chases!!! |
Wow!!!  That's all I have to say.  GFS had some strong instability (-7 to -8 LIs) through the southern Downs.  Shear wasn't great, but generally 15-20 knots from the south through the mid levels meant that storms should at least get a chance to get organised or sustained - and they did!
We left home at 12:30pm - getting to Warwick just after 2pm.  A nice storm had developed near Stanthorpe, and we had the option of heading south towards that or west in the hope it would go a little more NW (there are no roads in between, you have to go west or south).  Given the look of the storm visually on radar we opted to head west and sat about 15-20km west of Warwick.  The storm looked decent coming towards us, but certainly wasn't anywhere in the level it could get.
We had chaser convergence with Habs and Pingtang off the WZ Forums (Matt Smith and Michael Kene) - but soon after we had a big outflow push from the storms (not a good sign).  But there were large updrafts on a smaller developing cell just to our north, along with very large updrafts/big RFB to our west!  So we decided to shoot northwards in between the two cells up towards Pittsworth.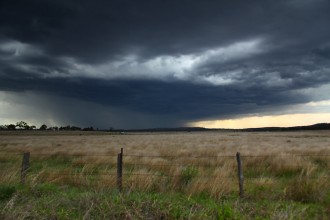 The contrast was wrong south of Pittsworth, but the cell to our west was getting interesting very quickly!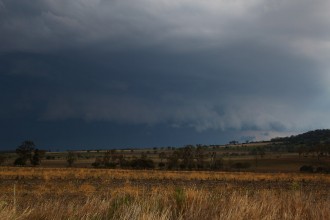 We continued to head to Pittsworth, then shot west of town - there we were treated to an awesome sight!!!
We flew back to Pittsworth then headed north on the Oakey road...these photos were taken intermittently stopping.  Progressively the storm weakened and got less photogenic...
But at sunset, more storms developed to the northwest, and we were treated to some awesome lightning - which was a fantastic way to end the chase!!